Aeration and Slice Seeding
---
Aeration
Summer is over and done with and your lawn seems to have seen its fair share of foot traffic from all those barbecues you hosted. Over the course of those summer months, the soil and underlying thatch of your lawn becomes compacted. This can severely impact your lawns ability to survive because the soil can no longer breathe. "Because there is a lack of oxygen, the roots of the grass can't absorb the nutrients or water from the soil, making it weak and more prone to weeds and grass disease", says Lyle Mosca, owner of Imperial Landscaping and Masonry. Aeration permeates the soil with tiny holes to allow oxygen, nutrients, and water to reach the roots. In turn, the roots are able to grow deeper into the soil creating a stronger more voluptuous lawn.
---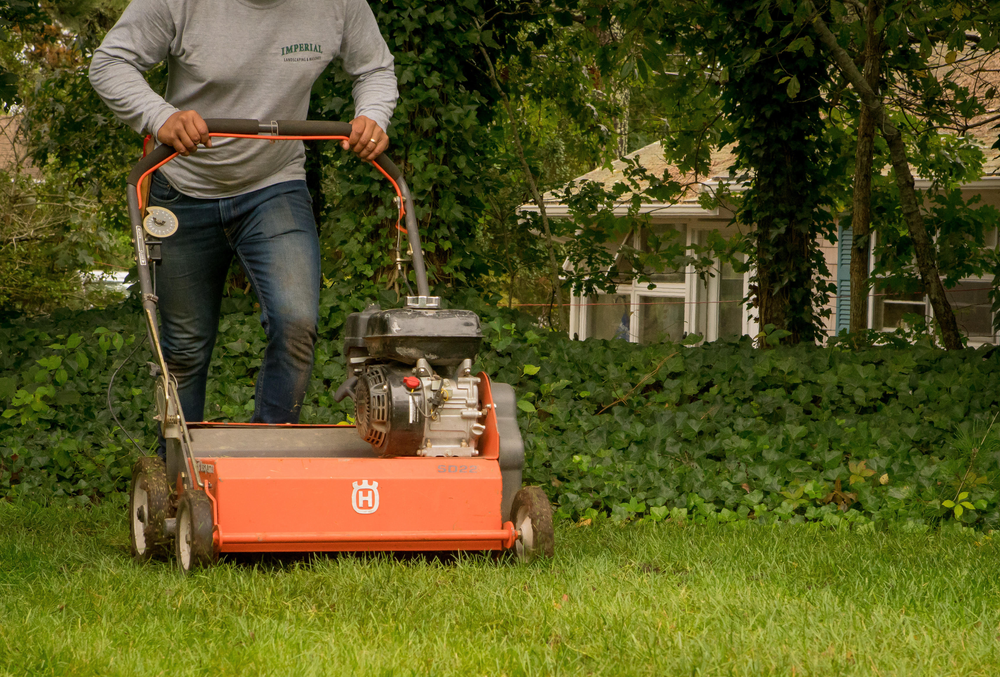 Slice Seeding
A qualified landscaper should have a piece of equipment called a slice seeder. The process of slice seeding starts with using this piece of equipment on your lawn, where it quite literally slices into the soil with steel blades creating furrows or small holes in your yard. The machine then drops the grass seed directly into those furrows. Imperial Landscaping and Masonry's owner, Lyle Mosca, suggests this method over simply spreading grass seed across the top of your lawn. "Slice seeding allows the seed to come into direct contact with soil beneath the surface of your lawn. This gives your grass seed a higher chance of germinating". Which gives your yard a less patchy look.
---
What Does Your Lawn Need?
Slice seeding and aeration can help bring your lawn back to life before the harsh winter months. However, each method serves a different purpose. Slice seeding plants grass seed, successfully allowing for quick growth of new grass.
Let's say your yard has a more mature crop of grass but has felt the heat and traffic of the summer. If that is the case, aeration might be a better choice. It also doesn't hurt to accompany the aeration with some overseeding to help keep your lawn looking healthy and lush.
Imperial Landscaping and Masonry Can Help you Decide
Imperial Landscaping and Masonry will examine your lawn and soil to see which services will best help your yard maintain it's healthy green look. Their lawn care and landscaping specialist will help you decide with confidence.
Imperial Landscape and Masonry located in Harwich, MA. Servicing Cape Cod and the South Shore.
Give us a call today! 508-241-1888